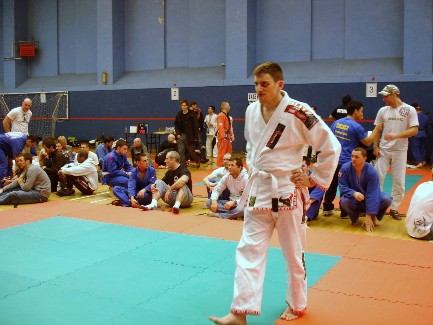 It's been a great weekend. I went to my first BJJ tournament this Saturday and I had quite some fun. I was quite stressed with my weight during the past two weeks. Two days before the fight I dehydrated myself by drinking only 1 pint of water per day and I lowered my daily calorie consumption to 1600ckal. This was proven to be a stupid idea since I was 4kg lower than the limit at the weigh-in. Also I was a bit stressed so I had only 3 hours of sleep before the fight.
When we arrived at Brighton I was feeling quite exhausted, but when we arrived at the King Alfred leisure centre and I saw the mats down I felt eager to fight…. but one important lesson that I learned is that you have to wait for quite a few hours before you get your chance to fight.
So after I waited for a few hours and people from our team had medals around their necks, it was my turn to fight. I was hoping my opponent will jump to guard and that we would continue from there but I was mistaken! As it seems he was a lot more experienced than me, he threw me with tsuri-goshi and I immediately pulled half guard. Then I got to my knees and we both stood up. He went immediately for a morote-gari and I sprawlled. Surprisingly he grabbed my belt and lifted me up into the air and we both went to the ground. He landed in my guard. I played guard and I almost secured a triangle-choke. Unfortunately he escaped and went to his knees. I tried to wrestle him from that position but he threw me once more with o-goshi. There he got me to side control and then full mount. I escaped under his legs. I almost got his back but he turned and threw me down once again with morote-gari. At that moment… I knew it was all over! He was in my guard and I thought I could go for a guillotine, I made some sort of stupid mistake and he got my back, I escaped and he finished me with an arm-bar at the end of the fight.
Well… that's life! I don't like defeat and I will try and improve my judo skills until the next tournament.  A walk at the beach and a nice burger at the pub cheered me up!